WELCOME
Hello and welcome to Starving Artist. Herein you will find pixel work created (at least in some part) by yours truly. Click the links found around the site to discover other places to find me and learn a little about who I am and what (or who) inspires me. I hope you enjoy your stay!
~Kenly
What's New?
May 08, 2012:
So, I've been slaving away at my Murder Mystery Pageant... She's taking forever! And on a 'life' note, I found out yesterday (technically, by date) that I am a victim of identity theft. Yippee skippy... I'm doing what I can to get that addressed, so here's hoping it's taken care of swiftly.

April 24, 2012:
Welcome to the newly hosted, newly-made layout for Starving Artist! I now have a forever-home on the domain of my sissy, Tropicallili, the owner of The World of Purple! Give her much love, I say! Much love!!
Newest Dolls/Bases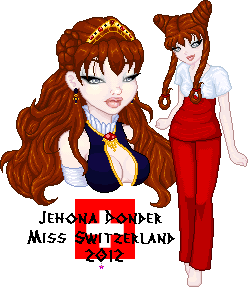 Portrait Base By: Hollay|Full Body Base By: Felirile

This was my first entry for the Miss Doll Europe pageant for this year. As you can see, I chose Switzerland. I made it to round 2.